Listen to .mp3 samples:
Want to know the best scales to use with these jams? Get:
Jam Sessions - Funk Style CD-ROM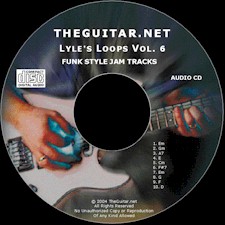 Here's the CD art you can use to label your jam tracks once you download them and burn to a CD:
lylesloopsvol6-cdart.jpg
DOWNLOAD=$6.00!
Order the download now and I'll email you the link right away!
---
CD=$12.00!
Order the CD and I'll mail it to you. Expect delivery within 5 to 10 business days.